NOTE: The Lite Version is our electronic version which is available for free from this web site. It has limited content but gives you a taste of what is offered in our Full Version.
The Full Version is our printed newsletter which is mailed to you. It contains everything in the Lite Version along with many other reprinted pages from other NRHS newsletters, railroad publications, and flyers that contain photographs, drawings, and maps. The full version is just another benefit of joining our chapter.
THE TRANSFER TABLE
The Wilmington Chapter NRHS Official Newsletter
Internet Edition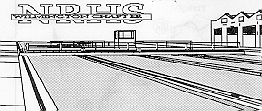 | | |
| --- | --- |
| VOLUME 30 NO. 7 | SEPTEMBER 2007 |
Back To Wilmington Chapter Web Site
NEWS BITS
This group of hardy and adventurous individuals (which might be also be what is commonly referred to as a "Motley Crew"?) was photographed by Chapter Member Duane Conly on Friday, July 27, 2007, upon the completion of our Chapter's first and thus far, only CHARTERED CRUISE on the CHRISTINA RIVER. Although he provided the electronic photo file in plenty of time for the last newsletter (as requested), for various, miscellaneous, unknown, unexplained, and undisclosed reasons, the Editor neglected to add it to the previous issue of The Transfer Table. It is nonetheless provided here for the official record of Chapter activity!

PRESS RELEASE - Rails in Delaware - A Presentation by Mike Dixon at the Historical Society of Delaware ( 505 N. Market St., Wilmington, DE 19801 on Wednesday September 26, 2007, 7:00 p.m. Mike Dixon, adjunct instructor at the University of Delaware specializing in social history, will present an illustrated lecture tracing the social history of the railroad in Delaware from the beginning of the "railroad age" to the present. The program is the third in a series of four Signature Series presentations sponsored by the Historical Society of Delaware in 2007. (details on next page)
A historian and writer, Mike Dixon, M.A., M.S., has been chronicling and disseminating historical information on the Delmarva Peninsula for nearly three decades. He is an adjunct instructor at the University of Delaware and Wesley College. In addition, Mike is a visiting scholar for Delaware Humanities, Maryland Humanities, and Delmarva Discussions. The history of the railroad in Delaware is one of the most significant stories in the understanding of the development of our state. Both the rail car building industry and the influence of the railroad on the development of downstate and the growth of agriculture and tourism represent major impacts on the state's economy, culture, and personality. The topic of railroad history was selected for 2007 Signature Series in recognition of the 100th anniversary of the opening of the Wilmington Train Station designed by renowned railroad architect Frank Furness. Our partners in presenting this program are the Friends of the Furness Railroad District, a non-profit organization created to increase community awareness of the cultural and historical value of the train station vicinity. Considered one of the greatest architects of the Victorian Age, Frank Furness was a true product of American spirit. His work is hallmarked, not by European influences, but by American values of freedom, abolition, and rebellion. His physical designs embodied the industrialism of the post Civil War era, drawing on industry, railroads, and capitalism for inspiration. Currently there are three extant Frank Furness railroad buildings on Wilmington's Riverfront-the largest concentration of his work remaining in the world. This program is free and open to the public and will be held in the Copeland at the Delaware History Museum at 504 N. Market Street. RSVP appreciated to 655-7161 or hsd@hsd.org. For more information, please contact Gregory Coin at 302-295-2393, gcoin@hsd.org or visit www.hsd.org. The Historical Society of Delaware is a statewide, non-profit organization dedicated to the exploration, preservation, and appreciation of Delaware history, heritage, and culture for the benefit of the public.

Frank Furness (1839-1912) from Penn Biographies [ http://www.archives.upenn.edu/histy/people/1800s/furness_frank.html ]Frank Furness was born in Philadelphia in 1839, the son of William Henry Furness, the Boston-born pastor of the city's first Congregational Unitarian Church, and Annis Pulling Jenks. Ralph Waldo Emerson was one of William Henry Furness's closest friends. Abolitionists William Lloyd Garrison and Wendell Philips graced the Furness parlor; and the family basement served as a stop on the Underground Railroad. Frank Furness was educated at private schools in the city, but never attended a college or university. Instead in 1857 he was apprenticed to architect John Fraser. Two years later he entered the New York studio of Richard Morris Hunt where he learned the eclectic medieval form which he would use throughout his career. After serving in the Union cavalry for most of the Civil War, Furness returned to New York to work briefly for Hunt.

When Furness returned to Philadelphia in 1866, he received his first commission for a new Germantown section of the Philadelphia. The following year, Furness entered into his first architectural partnership, joining established architects John Fraser, his former mentor, and George Hewitt. Shortly thereafter Fraser left to take a government job, and the firm of Fraser, Furness, & Hewitt became Furness and Hewitt. During the early 1870\'s this team designed the Pennsylvania Academy of Fine Arts, the commission which established Furness as one of the major artists of his generation. It was also during this period that Louis H. Sullivan worked briefly in 1873 as an apprentice with Furness and Hewitt. Hewitt left the firm in 1875 (a year before the dedication of the Pennsylvania Academy). Furness then worked alone until 1881 when he made his chief draftsman, Allen Evans, a partner in the firm of Furness and Evans. Five years later the firm changed its name to Furness, Evans, and Company, as it took on a number of young partners. Furness was a cofounder of the Pennsylvania Institute of Architects in 1869.

From 1875 on, Furness moved away from European revival styles, looking instead to the American West and to the American industrial age as inspirations for his dynamic and original buildings. He found an appreciative audience in industrial Philadelphia. By the time of his fiftieth birthday in 1889, Furness had designed more than three hundred buildings in Philadelphia, including a number of major city landmarks. During his career he designed numerous stations for the Pennsylvania and Baltimore and Ohio Railroads, as well as banks, residences, office buildings, and churches.

The "Friends of the Furness Railroad District" (FFRD) was formed to increase community awareness of the cultural and historical value of the train station vicinity, including its architectural significance and importance as a major gateway into the City of Wilmington. FFRD is a nonprofit organization, managed by Wilmington Renaissance Corporation (WRC). It has its own tax identification number and is a separate 501c3, but is managed by the WRC staff. For more information contact the Wilmington Renaissance Corporation: http://www.downtownwilmington.com.
Reading FP7s to head up excursion train - PENNSBURG, Pa. - Restored Reading Company FP7s 902 and 903 will head up an excursion train on the former Reading Perkiomen Branch this fall. The trains are being operated to celebrate the 50th Anniversary of the Upper Perkiomen Valley Chamber of Commerce. The excursions will include coaches and a parlor car from the Morristown & Erie. The train will make a 22-mile round trip on ex-Reading trackage from Pennsburg through Upper Montgomery and Eastern Lehigh County, passing through the 3/4-mile Dillinger Tunnel on the East Penn Railway. The train will take approximately 2_ hours to make the trip. Trains will run on Oct. 6-7 departing at 8 a.m., 11 a.m., 2 p.m., and 5 p.m., and on Oct. 13-14 at 8 a.m., 11 a.m., 1 p.m., and 5 p.m. Volunteers from the Reading Company Technical & Historical Society will staff the passenger cars with train crews provided by the East Penn Railway. General seating is $16 for adults, $8 for children ages 3-12. Parlor Car seats are $35 per ticket or $950 for the entire car, which seats 29. Individual Parlor Car tickets are available only for the 8 a.m. or 11 a.m. trips. The train will depart from 220 Pottstown Avenue in Pennsburg, near the intersection of Route 663 and Railroad Street. For more information contact the Upper Perkiomen Chamber of Commerce at (215) 679-3336 or go to www.upvchamber.org.

A Report on the SUMMER 2007 NRHS BOARD MEETING - by Steve Barry, Alternate DirectorThe NRHS Board of Directors met in Chattanooga, Tenn., on August 24, 2007, in conjunction with the annual Convention. It was a long meeting, running over five hours, but was perhaps one of the most important meetings in the Society's history.Naturally, the big topic was the proposed dues increase, which would raise basic NRHS membership dues from $22 to $33 per year. With volunteers to help run the society becoming more and more scarce, and tasks within the Society requiring more and more technical background, the senior officers of the NRHS were becoming seriously overburdened. The dues increase would allow for a lot of the administrative work being done by senior management to be farmed out to paid contractors -- after all, you don't need to know the difference between a GG1 and a Big Boy to set up a membership data base. By farming out these tasks, senior management can concentrate on running the railway preservation mission of the NRHS.
The debate over the dues increase was passionate, but civil. Three amendments -- one seeking to cut the dues increase in half to $5.50, one seeking to cut the increase to $7 and one seeking to spread the increase over a two-year span -- were all rejected. When the final vote was taken, the increase passed by about a 3-to-1 margin.

In other business, President Gregory Molloy said that the NRHS would have to deal with the national office and library location sooner than expected, as the landlord of the building in Philadelphia was about to make a generous offer to encourage the Society to break its lease so the building could be converted to condos. It is anticipated that the national office and national library/archives could very well wind up in two different locations once the details are addressed.The NRHS Bulletin is moving back towards a more timely schedule. Starting 2007 with none of the 2005 Bulletins yet issued (except for the Yearbook), it now looks like all of 2005 and 2006 will be issued in 2007, and the Bulletin should be pretty close to being on schedule again by the close of 2008.

On the Convention front, the 2008 gathering will be held in Fort Worth. The Lackawanna & Wyoming Valley Chapter was awarded the 2010 Convention in Scranton. No Chapter has yet bid on 2009.

On a personal note, I want to thank the Wilmington Chapter for its support of the dues increase. President Greg Molloy has been busy moving forward with a Railway History Initiative that brings together many of the major players in the rail history movement, including the Railway & Locomotive Historical Society, the Nevada Northern Railway Museum, the California State Railroad Museum and more. Vice President Jeffrey Smith (who is also Bulletin editor) has been so badly tied up with getting the national computer data bases sorted out that the Bulletin has suffered. Senior Vice President Barry Smith has been busy with RailCamp and other projects. The passing of the dues increase will allow these hard workers to concentrate on moving the Society forward and will ensure that there is an NRHS in the future. Like Amtrak, the NRHS has been perpetually underfunded. We all have said that if Amtrak had proper funding, it could do great things. The same could be said of NRHS. I know that for some of you, the dues increase is not popular and perhaps a bit of a hardship. But your sacrifice has made it possible for the leaders of the Society to concentrate on the NRHS mission and move the Society forward. I think you'll see great progress in the next few years. Even if you don't like the dues increase, I'd encourage you to stick around -- you're going to like the results. Once again, I personally thank you for your support. This was more than a dues increase -- it was a fundamental change to the way the Society does business and has laid the foundation for the NRHS to serve the railroad historians who follow us.
MESSAGE FROM NATIONAL NRHS: NRHS Board of Directors approved the following national dues rates for 2008:
$33 per year for Chapter Primary Members
$34 per year for At-Large Primary Members
$16 per year for Student Members (either Chapter or At-Large)
$5 per year for Family Members (either Chapter or At-Large)
All chapter treasurers should collect the new dues rates for all new members joining after September 1, 2007, at which time new members will be counted as joining in and paid through 2008. The new national dues rates will be reflected in the 2008 dues bills that are to be distributed in early October. Any chapter that wants to change its chapter dues rates at the same time as the national change must notify the NRHS national office no later than September 15, 2007. On that date, the database will be locked for production of the 2008 membership dues bills. Gregory P. Molloy - President
URGENT MESSAGE FROM NATIONAL NRHS: Direct Mailing of 2008 Dues Bills - 29 Aug 2007 10:00:24NRHS 2008 dues bills and membership cards will be mailed directly to all members. This plan was approved by the Board of Directors on August 24. Chapters should begin planning now for this important change. Details of this new system were published as a proposal in the July 2007 edition of the NRHS News Extra. The only difference from the original proposal is that dues bills for three chapters located outside the United States will still be shipped to the chapters for distribution, primarily because of currency considerations. This is a significant change from our traditional way of doing things, so it is to be expected that there will be some questions and concerns in the organization. Most of these can be handled with some advance planning.
First, here are some clarifications based on questions asked at the meetings in Chattanooga:
Chapter members will continue to send all dues and donation payments to their chapters, and the chapters will transmit national dues and donations to the national organization.
Chapter members need to write only one check, payable to the chapter.
National dues bills will include chapter dues and a line for donations to the chapter.
National dues bills will be prepared only for a chapter member's home chapter and not for any additional chapters he or she may join on a local basis.
Please note that all of these points are no change from the previous system.
Here are some points that are changes from the previous system:
National dues bills will be mailed directly to all chapter members. This includes members who have not seen national dues bills before because their chapters distributed their own bills.
The 2008 bills will include a letter explaining the distribution change. The design of the bill itself is almost identical to the 2007 bill.
Membership cards will be distributed with the original dues bill and not held back until after dues are paid. As has always been the case, however, the card itself has little value unless the dues are paid. It may give access to some membership discounts at museums and tourist railroads, but nobody gets their Bulletins, newsletters or convention pre-registrations unless they have actually paid.
Members will get their 2008 dues bills in October 2007 and final notices in February 2008. Both of these dates are earlier than in previous years.
Chapters will no longer need to supply the postage and/or effort to send bills and membership cards to their members. In some cases, chapters may want to use this money to promote renewals and chapter donations. Chapters no longer have to wait for the national dues bills to arrive before beginning these appeals.
We strongly recommend that chapters inform their members that they will be receiving national dues bills by direct mail before the bills arrive. Most bills will be sent by standard (not 1st class) mail, so delivery times may range from a few days in the Northeast to a couple weeks on the West Coast. We expect that everybody who paid 2007 dues will receive their 2008 renewal bill by the end of October. Dues bills will be based on the mailing instructions and chapter dues rates supplied by the chapters on the Chapter Information Reports that were due on August 1. As of this date, almost 30 chapters still have not yet supplied or confirmed this information for 2008. If you are one of them, please do so immediately. We expect that chapters will have an opportunity to review their rosters, dues rates and payment mailing instructions in September before the bills are actually printed. This opportunity may be limited to electronic distribution and not postal mail. As soon as the procedures are finalized, we will distribute the information through this Urgent Message system.

For planning purposes, all primary members should receive at least two more Bulletins and one edition of the NRHS News between now and the arrival of their dues bill. They will receive additional Bulletins, a Yearbook and an additional NRHS News between the arrival of the dues bills and the payment due date at the end of the year. Greg Molloy, NRHS President
URGENT MESSAGE FROM NATIONAL NRHS: Help Needed for Relocation of Libraries - 29 Aug 2007 10:01:56Just before the national convention, the Society learned that the Robert Morris Building in Philadelphia has been sold and will be converted to another use. The current tenants will have to vacate. The building has been the home of the NRHS national office and libraries since 1990. Although a similar conversion project was discussed last year, the previous building owners later dropped the idea. Our current lease expires on September 30, 2009. However, the owners appear to want the facility vacated earlier than that, and the NRHS is currently negotiating the terms for an earlier move. In any case, we will not be able to occupy our current space past 2009, and we may need to vacate earlier.
The NRHS leadership identified three immediate priorities to deal with this unexpected development.
We need to start restoring our financial reserves so we can deal with this move in a timely and effective manner. The Board of Directors took this step last week with the approval of higher dues rates starting in 2008.
We need a Project Manager to direct this project. We need someone with professional project management experience who will be able to lead all phases of the relocation project, including assessing needs, developing and comparing options for locations, investigating sources of funding and staffing, and finally managing the move itself. The national officers are not in a position to perform this work. If we are unable to recruit a qualified volunteer for this position within the next few weeks, we will have to hire someone on a paid basis.
We need a committee to solicit proposals and help develop options for the Project Manager to evaluate. We need to do this even if the Project manager is a NRHS volunteer in order to consider a broad range of ideas. If the Project Manager is hired from outside and is unfamiliar with the NRHS, this committee will be essential.
If you have the qualifications and are interested in either the Project Manager or the support committee positions, please contact me at president@nrhs.com.
In considering either of these positions, please consider the following:
Neither the Project Manager nor the support committee members must be Philadelphia residents. Some business travel will be required, however.
The NRHS will evaluate the libraries and the national office as two separate functions. While there are advantages to locating them together, that is not an absolute requirement.
The NRHS Libraries consist of a print collection (books, magazines, maps and other printed material), a film and video collection and internal collections of Bulletin back issues and archives of chapter newsletters. While there are certain economies to keeping all collections in the same location, that is not an absolute requirement.
The NRHS does not require that the libraries be located in Philadelphia, and other locations will be considered as well.
The location of the libraries is not just a question of bricks and mortar. Each proposal must also address staffing and ease of access as well as one-time and ongoing costs.
The NRHS wants to evaluate options to co-locate the libraries in schools, existing libraries or with the libraries of other organizations in a shared facility.
The NRHS will consider options to temporarily store the library collections while suitable space is prepared, especially if we have to vacate before the expiration of our current lease.
The NRHS will probably need to solicit donations from both our members and outside sources to help pay for this relocation and possibly future staffing needs as well.
We expect the Project Manager to provide the NRHS leadership with options for consideration and recommendation to the Board of Directors. The owners of the building may require the NRHS to vacate our space as early as February 2008, so time is of the essence. We expect that the Project Manager may attend one or more meetings of the Board of Directors to address questions from individual Board members.

Relocating the libraries is a big task, and it comes at what is already a busy time for the Society. If you can help us with staffing or funding leads, please contact me quickly at president@nrhs.com. Greg Molloy, NRHS President
RAILROAD BOOKS FOR SALE Books are hard back, unless otherwise noted, purchased new and are in excellent to very good condition. Small books are mostly soft back. Price is $10.00 per book [unless otherwise noted] (*) which includes shipping charge. Some (*) contain more than one book. Payment due upon receipt of book. May be returned within 10 days for full refund if not satisfied. For Wilm. NHRS chapter members, 20% discount plus 20% donation to Chapter funds.
CONTACT: Joseph C. Reed
1108 Artwin Rd.
Wilmington, DE 19803
Home Chapter - Wilmington, DE
2nd Chapter - Philadelphia, PA
(302) 478-3651 jreed96@verizon.net
NRHS Member since 1988
[ suggest you call to confirm the book is still available ]

Price in this section is $10.00 per book which includes shipping charge.
History of the Baltimore & Ohio -copyright 1989 9"X 12 " 128 pages.
Rails Across the Tundra - A Historical Album of the Alaska Railroad copyright 1985 by Stan Cohen (fourth printing April 1992 soft cover 9" X 11" 144 pages. also Rail Guide to the Historic Alaska Railroad - Mile by Mile Route Logs etc. 5 1/2" X 8 1/2" 64 pages
Great Railway Journeys of the World copyright 1981 and 1982 by The Contributors and the British Broadcasting Corporation Michael Fray and others 6" X 9" 182 pages.
The New York Subway - Interborough Rapid Transit - Its Construction and Equipment copyright 1904 by Interborough Rapid Transit Co. This edition prepared for distribution by Crown Publishers, Inc. 9" X 12" 150 pages.
Railroads - The Great American Adventure copyright 1977 by the National Geographic Society 7" X 10" 204 pages.
Riding the Iron Rooster - by Train Through China copyright 1988 by Cape Cod Scriveners Company 7" X 10" 480 pages.
The Old Iron Road - An Epic of Rails, Roads, and the Urge to go West copyright 2004 by David Haward Bain 6" X 9 1/2" 434 pages
Last Train to Paradise - Henry Flagler and the rise and fall of the railroad that crossed an ocean 5 1/2 X 9 1/2 272 pages.
Railways - Past, Present and Future G. Freeman Allen William Morrow and Co. Inc. 1982 9" X 12" 306 pages
A New Southern Serves the Growing South Modern Railroads Magazine April 1953 entire magazine 1/2" X 10" X 13" cover has tear in corner.
The Southern Railway Handbook soft back copyright 1983 W - W Publications, Goode, Virginia 8" X 11" 120 pages.
Trolley Car Treasury copyright 1956 by Frank Rowsome, Jr. 9" X 11" 200 pages.
Steel Rails to Victory - A Photographic History of Railway Operations During World War ll copyright 1970 by Ron Ziel 8" X 11" 288 pages.
A Guide to TRAINS - The World's Greatest Trains, Tracks & Travel copyright 2002 by Weldon Owen Pty Ltd. Consultant Editor - David Jackson 6 1/2" X 11" 256 pages.
Books were purchased new and are in excellent to very good condition. Price in this section is $15.00 per book which includes shipping charge,
Classic Trains copyright 2001 by Michael Friedman Publishing Group 11" X 14" 146 pages.
Iron Horses - The Illustrated History of the Tracks and Trains of North America copyright 2000 PRC Publishing Ltd Michael Del Vecchio 12" X 12" 176 pages.
An American Journal by Rail copyright 1988 by Key Porter Books -Dudley Witney and Timothy Jacobson 10" X 14" 200 pages.
Night Trains - The Pullman System in the Golden Years of American Railroad Travel copyright 1989 by Peter T. Maiken 8 1/2" X 11" 415 pages.
The American Train Depot & Roundhouse copyright 1995 by Hans and April Halberstadt 10" X 10" 192 pages.
Luxury Trains - From the Orient Express to the TGV copyright The Vendome Press 10" X 10" 232 pages.
The following are 8 1/2" X 11" publications pertaining to the specific railroad location, history or event. They are priced as specified and includes shipping charge - prices differ due different sizes and weights. All are in excellent condition. Payment due upon receipt of publication.
SOUTHERN RAILWAY - Ties Magazine - September - October 1969 with story of Hurricane Camille damage in southern Virginia and the Southern Railway response to keep the trains rolling. 42 pages. $2.00
Pennsylvania Railroad - Horseshoe Heritage - The story of a Great Railroad Landmark - copyright 1992 by Dan Cupper - autographed copy 56 pages. $4.50
Red Arrow Lines Remembered - The Years Surrounding World War II copyright 1992 by Bells & Whistles written by Kramer and James - autographed by Samuel L. James 64 pages. $4.50
Diamond State Trolleys - Electric Railways of Delaware copyright 1991 by Harold E. Cox 88 pages. $5.00
Report on the Rail and Marine Interface at the Port of Hampton Roads - 1973 U. S. Dept. of Commerce - Maritime Administration 26 pages. $2.00
White Pass & Yukon Railroad - ALL Aboard - Complimentary Copy of magazine - Short history of railroad and describes scenes along railroad. 26 pages. $2.00
The Baltimore & Ohio - The Story of the Railroad that Grew up with the United States - copyright 1951 by Carroll Bateman 32 pages. $2.50
Baltimore & Ohio Magazine April 1952 - Special Edition -Issuance of B & O Stamp Commemorating the 125th Anniversary of the Granting of the Baltimore & Ohio Charter 20 pages. $2.00
CERA's Bulletins 1 - 19 (1938 - 1940) CERA fan trips along various rail lines in the Chicago area. copyright 1938, 1939, 1940, 1976 by Central Electric Railfans' Association 84 pages. $5.00
CREA's Bulletins 20 - 34 (1941 - 1942) The Interurban Goes Modern CERA fan trips along various rail lines in the Chicago area copyright 1941, 1941, 1977 by the Central Electric Railfans' Association 84 pages. $5.00
East Shore and Suburban Railway - Along the East Shore of San Francisco Bay _ 1977 by Golden Gate Books by Erle C. Hanson 32 pages. $2.50
We Deliver - The Story of the U. S. Postal Service Published 1986 by The United States Postal Service 20 pages. $2.00
The Wonderful World of Coca Cola - Centennial Edition _ 1978. 1979. 1981, 1985 by Capricorn Corp. by Shartar and Shavin 64 pages. $5.00
Exploring Space with a Camera Published 1968 by NASA 9" X 11" 214 pages. $15.00
TRACKS - "The Unique Railroad Quiz Game" consists of 3000 questions and answers on 500 cards which are comparable with many other trivia games. (Something like "Trivial Pursuit" games that were popular in the 1980's.) copyright 1985 by Colorado Innovative Concepts, Inc.

Norfolk Southern and BLET Reach Tentative Agreement (August 7, 2007): NORFOLK, VA Ð Norfolk Southern Railway Co. and the Brotherhood of Locomotive Engineers and Trainmen today announced that they have reached a tentative new agreement, which extends through 2014 and continues to link engineers' compensation to Norfolk Southern's performance. The agreement is subject to ratification by employees. The agreement, which covers approximately 5,100 locomotive engineers, continues to provide an annual bonus opportunity based on the same performance criteria used to determine management bonuses. The BLET has participated in Norfolk Southern's bonus program since 1996.
Other highlights of the new agreement include general wage increases, improved incentive pay for weekend and holiday work, increased 401(k) matching contributions, and improvements to vacation arrangements that are coupled with new qualifying requirements that will improve engineers' availability for work. The agreement also includes work rule changes defining engineers' job responsibilities and rules that will permit more efficient operations.

BLET General Chairmen Ray Wallace, Willard Knight and Cole Davis expressed support for the agreement, which they said will continue to prove beneficial to their members. NS Executive Vice President Administration John Rathbone and Vice President Labor Relations Mark MacMahon indicated that the agreement is a continuation of the collaborative partnership between NS and the BLET and that it will facilitate efforts to improve operating efficiency and customer service.
This update from Tom Smith received August 13, 2007 Ð Referring to the Tom Smith photos which appeared photos on page 11 of The Transfer Table, the two lower photos were captioned, but you may not have known what the top two photos were. They were taken at the Yorklyn Snuff Mill, on the first day that W&W 92 was fired up in the summer of 1960 the way it was delivered, lacking headlight, bell, number plate and other things.. No, 92 was first delivered to the Snuff Mill and kept in a shed. Some of the volunteers pulled it out that summer and fired it up, then ran it back and forth on the snuff mill sidings which are now long gone. Paul Fortin and I went out to see it that day. No. 92 would later undergo a complete restoration and would come to look like it did in the lower left photo at Yorklyn station, but without the white smokebox which was added in 1967 when the engine was named President Washington.
In other news: The Mount Hood RR resumed steam operation for the first time in nearly 60 years when they put their former Grand Canyon RR 2-8-0 18 into service on July 20. The locomotive is actually owned by Brian Fleming of Longview, Wash. and was built by Alco in 1910 for the Lake Superior & Ishpeming. She arrived at Hood River in June along with sister 20. The engine has been used in daily service on the MHRR excursion train to Odell. She puts on quite a sound show climbing the 3.5% grade up from the switchback.

On the downside, the owners of the Mount Hood RR have put the railroad up for sale, asking $5.2 million. Despite steadily increasing ridership-at least until 2006-and increased freight business from the reopened Hanel Lumber mill, the railroad has never turned a profit. The railroad suffered a major setback in November 2006 when floods took out a large portion of track at MP 15, severing the line and making it impossible to run trains to Parkdale, where the railroad had built visitor facilities, and where there were spectacular views of Mt. Hood. As a result, 2007 ridership has been cut in half. Lumber is now the only commodity handled, the fruit and propane traffic is gone.
---
The Wilmington Chapter Is Born by Tom Smith
This piece originally appeared in the November, 1992 "Transfer Table" and thanks to Russ Fox it is currently available on our Chapter Website at:
http://wilmingtonnrhs.com/stories/wilm_chapter_born.htm.
It is reprinted here in honor of our 40th Anniversary and for the convenience of the those without access to the Internet.
It hardly seems possible that the Wilmington Chapter has reached the quarter century mark. It just doesn't seem that long ago that we were getting started. A lot of our members will be getting silver 25-year pins this year, those who joined when the Chapter was formed and stayed with it through good times and not-so-good times, although fortunately we have not had what you could call really bad times. Do you remember? For the benefit of those who have joined later or would like to recollect, we are going to recount some of the background and early days of the Chapter. As years advance and memories become dimmer, it's possible some events might get overlooked, so we would encourage anyone to add his own two cents worth, for unfortunately the history of our Chapter is a bit spotty in places.
Despite a proud heritage as a carbuilder and home of major locomotive shops, Wilmington was never been much of a railroad town, or more particularly a rail enthusiast hub, especially when compared to Baltimore and Philadelphia where fan groups had long been active. True, guys like Bill Russell and Bill Grant had been out haunting tracksides since what seemed to me to be the drawings of the steam age, but by the time I met them and a few others like Dick Hall, I had grown up railroad-aware in the 1950's often thinking l was the only one in the entire state who could call himself a railfan. A group met at John Gotwal's house every month (I still have a card from the "Delaware Railroad Ass."); they were mostly model railroaders, but did manage to gather around the projector for slides and movies. More than a few of our present members are alumnae of this group. Other than that though, there just wasn't much association for railfan types in the early 1960's, and Mitchell's was just a department store in Fairfax. In 1962 I joined the NRHS, joining the Lehigh Valley Chapter since I had gotten to know a few of their members on a trip they sponsored to the Buffalo Creek and Gauley in 1960. As I recall, when the membership list came out (NRHS used to publish one every year listing all its members), there were only 4 other NRHS members in Delaware, none of whom I knew at the time, but found out later they were mostly long-time affiliates of the Philadelphia Chapter. The NRHS in those days could be accurately described, as one of my LV Chapter acquaintances described it, "trolley nuts". Look in any of the old Bulletins; you will see a preponderance of traction-related material. Most railfans of the 30's, 40's, and early 50's were heavily into trolleys; it was the disintegration of the interurban network in the 1930's that led to the founding of the NRHS in the first place. When NRHS conventions were held in places like Altoona, most of the convention trips were on trolleys, hard as that is to imagine to us today. So maybe the fact that Wilmington, unlike its neighboring cities, had been trolleyless since 1941, was responsible for the dearth of active railfans in the Diamond State (and nobody cared about those quiet trackless trolley coaches that used to hum around Wilmington streets).
The situation changed in 1959 when Tom Marshall bought Canadian National 2-6-0 92 and brought it to Delaware with the announced intention of starting an excursion railroad on the Landenburg Branch of the B&O. Maybe this doesn't sound like such a big deal today when one can wade through 300 pages of the Steam Passenger Service Directory, but Tom's vision of the Wilmington & Western should not go unappreciated in the context of the times. For this was before Strasburg, East Broad Top (revived), Steamtown, Black River & Western and all the others with well established credentials. What is now called the tourist railroad industry was then confined to amusement parks and lines whose operations were continuations of what they had always done. The concept of starting a new railroad on existing track with equipment scavenged from wherever it could be found was almost unknown then. The Historic Red Clay Valley came into being, and quickly developed a sizable membership of people who were interested in seeing this dream become reality, bringing together for the first time a group of people from Delaware and Southeastern Pennsylvania who had a vocational interest in railroading. While the drawn out process of getting the W&W on the rails dragged on (something I doubt present W&W volunteers can appreciate) two groups were at work on the equipment. One was getting 92 fixed up for operation at Yorklyn, while another, under the direction of Jim Mayberry, was restoring the 4 Lackawanna coaches, and building the track at the Marshallton yard and enginehouse. It was with the latter that I came to be associated.
We frequently had visitors while we were driving spikes at Marshallton, but one day a guy showed up in a Volkswagon bus to see what was going on. He said he was only interested in trolleys, so we called him The Trolley Man for some years thereafter, although his real name was Henry Dickinson. Whatever it was that attracted him to our crazy little group must have had a profound effect, for he stayed around for many years to the eternal benefit of both our Chapter and the W&W. At one time, Henry had been very active in the Philadelphia Chapter serving as their trip chairman (check page 5 of the November TT--that article showing little Bill Barnes oiling a PRR Atlantic--and see who was the director of that trip), but had ceased to be so. However, his long years of experience in the NRHS and railfanning in general made him a friend to all of us, and his wisdom and level-headed nature gained our greatest respect. By Memorial Day 1966, when 92's whistle echoed through the Red Clay Valley for the very first time, Henry was very much involved. The only Wilmington Chapter members in Delaware who were NRHS members at that time were Tom Marshall, Bill Russell, and myself.
At the end of the W&W operating day, a group would usually hang around the Heated Crew Room for kibitzing and agitating one another. Few of the W&W workers were participants in what we think of as the typical railfan type activities of train chasing, photography, mileage collecting and the like, but as Henry related his past experiences to the group, some interest in the NRHS began to grow. One day Henry asked me what I thought of starting an NRHS Chapter in Wilmington. This was something that had crossed my mind from time to time before, but my initial reaction was apprehensive. For one thing, because of our limited population base, a Wilmington Chapter would be pretty small, and we would be surrounded on all sides by big chapters--West Jersey, Philadelphia, Lancaster, and Baltimore-limiting the potential membership from which we could draw. Secondly, because it was inevitable that most of our initial membership would come from the W&W, it was important that a Wilmington Chapter would establish its own identity and not be an extension of the tourist railroad. The goals and objectives of the two were not exactly identical. Although the W&W was establishing itself as a quality tourist rail operation, it had no interest in the preservation and restoration of historic rail equipment beyond what was needed in its own operation, and its narrowly limited regional focus, even though appropriate to its own purposes, might be a detriment to attracting members to an organization called the National Railway Historical Society.
However, as time went on, the idea had more and more appeal. Tom Marshall lent his support to the project, and interest among W&W volunteers was growing. Henry Dickinson was very enthusiastic about it, and during the summer of 1967, we decided to initiate the process of establishing an NRHS Chapter in Wilmington. With the help of Lew Pardee, NRHS President, and Carrel I. Tod, Membership VP, we found out what we had to do, acquired the membership applications, and started recruiting. The W&W was very supportive, and publicized the Chapter in its newsletters. The response was overwhelming. Not only did most of the active W&W workers join up, but a lot of applications also came in from HRCV members who were not directly involved in running the W&W. Enthusiasm on all accounts ran high. Some people who had dropped out of NRHS rejoined through our Chapter. An organization meeting was held during which the first slate of officers was chosen, officers being needed for our charter application. Henry Dickinson was elected president; George Cramer (Pete's dad) vice president; J. Howard Link secretary; Woody Massara, treasurer, and I was elected National Director. All of us were W&W workers. We rushed all the paperwork to completion in time for the NRHS Board to vote on our application during the 1967 Convention in Albany, NY. I was there to proudly receive our charter, the Wilmington Chapter was born September 2, 1967! I don't remember the exact number, but we joined the NRHS with 60-some members; the second highest total of charter members for a new chapter in the history of the NRHS at that time. How many of those members are still members? Quite a few I can think of, but I hesitate to try to name them, for I know I'd forget somebody. It would be nice to see them all identified in the TT!
A formal presentation of our charter was made by Lew Pardee to Henry Dickinson at a special ceremony at Greenback station on September 23, 1967. That month also saw our first Chapter meeting. Hugh Gibb provided the program in a meeting held in a W&W coach at Marshallton enginehouse. The location may have been appropriate, but it wasn't satisfactory. No heat, no bathroom, etc. Through the efforts of member Jerry Cronin, we obtained a meeting room on the second floor of the Unity Club at 14th and Scott Sts. Anyone who went to a meeting there will always remember that place! There was a bar on the first floor, but the only ladies room was on the second floor. In high spirits, the Unity ladies would come up the stairs to use the facilities thinking the darkened room at the top was empty; and then finding themselves in the middle of a slide show! We met there for about 3 years, I think it was, and then moved to the DP&L Sportsmen's Club, courtesy of Walt Robbins, and then to Claymont High School and finally to the Community Center.
One of the Chapter's major goals was to establish a separate identity apart from the W&W, although it was obvious our membership would always be heavily influenced by the proximity of the W&W. The Chapter was to be a place for friendly fellowship of rail enthusiasts, where pressures and personal differences stemming from running a tourist railroad could be put aside, and persons interested in other than tourist railroading would find a welcome. The W&W would focus on the Red Clay Valley, the Chapter on broader rail history. The Chapter would not get involved in equipment acquisition as so many other chapters have done; that was best left to the greater expertise of the W&W. It has been a successful relationship over the years, with each group supporting the other. The Chapter has had more chartered trains through the W&W than it has with any other group. Our membership base did expand, even though the numbers didn't grow too much in the early years, and a number of fellows who were more inclined to model railroading joined up.
A chapter needs a newsletter, and ours was formed at our first chapter meeting. We voted to call it "The Official Guide of the Wilmington Chapter" and I volunteered to write it. Rev. Link published it on his mimeograph machine. It started off, like many such new projects, with a big bang, but soon began to fizzle. Several editors, including Henry Dickinson, Walt Robbins, and I think a couple of others, worked at it over the years, but it was usually besought with production problems. That changed when Bob Cooper began editing it in the late 1970's, when the newsletter began to shape up, come out regularly, and be entertaining and informative to boot. Russ Fox then took over as editor, and many more improvements were made. Along the way, the name was changed to "The Transfer Table"--easier to say, it reflected Wilmington's car building heritage, and avoided any copyright discrepancies. When Steve, Ernie, and Bruce Barry began printing the newsletter, it reached the apogee of amateur railfan publishing; the TT is well respected throughout the Society. For a number of years, our newsletter was one of our Chapter's weakest links. The quality we enjoy today does not come easily, it is the result of an awful lot of hard work and dedication, something many who were already overcommitted found in short supply. We owe a debt of gratitude to all those who have helped with the newsletter over the years.
Our Chapter activities usually consisted of slides, movies or speakers at our monthly meetings. But right from the start, there was a desire to run trips. Over the last quarter century we have run many. Some were charters, but a lot more were just fun outings using regularly scheduled trains or transit. I think all of us may have dreamed of running a major Class I railroad fantrip, but Wilmington just never was the right place for it, being limited by destination choices, limited market potential, lack of servicing facilities for passenger trains, and competition from those big chapters all around us. So we decided to concentrate on running small excursions that could be easily managed, relaxed and fun, and not incidentally, profitable. Again, I feel time has proven this was the right course for us. Sure, we could have tried to top Roanoke and Huntington and gotten on the covers of all the magazines with 4 steam locomotives running side by side through the curves at Claymont, but it seemed more important to run trips that people could enjoy-and affords Once again, Henry Dickinson's vast store of experience was the key.
Our very first fantrip was on April 25, 1968. We chartered a PCC car from Philadelphia Transportation Co. for a whole day of riding Philadelphia trolley lines. It turned out to be among the last fantrips on PTC before it went down the Septic system. Cost the Chapter $125. Henry said a trolley trip would sell if you put an ad in TRAINS. I didn't believe him--I knew our members weren't much on trolleys. The trip sold; mostly out-of-/owners. A new lesson learned-if you expect to turn a buck you have to promote outside the Chapter. Anyway, it was a beautiful spring day. Henry arranged the entire routing. To this day, I don't have the faintest idea of where all the places were we went. We covered all kinds of trackage, much of which you could call "freight only". You could repeat only a fraction of it today.
The NRHS convention was held in Baltimore in 1968. One of the trips was an outing to Marshallton in B&O RDC's and a trip on the W&W to Hockessin. It was arranged that the entire W&W crew would be Wilmington Chapter members. Several Chapter members also assisted in the Western Maryland trip to Hagerstown using CPR 4-6-2 1286. That trip, by the way, caused shock waves when the tickets were priced at $20 each--the most expensive NRHS convention trip ever run. You think that's cheap? That was big bucks for a fantrip. The first NRHS convention I ever attended was the one in Denver in 1963. The whole convention package cost about $20; and that included a trip behind 5632 to Colorado Springs, a Denver-Laramie run behind 8444, a C&S Great Western trip behind 5632 and 2-10-0 90, and the banquet! Now those odious convention registration fees alone can cost that much before you even buy a ticket.
Henry figured if we could flush PTC down the Septic, we might as well do the same for Red Arrow So on April 20, 1969, we ran a Red Arrow farewell trip. Another beautiful spring day was on hand as we chartered Strafford car 166 for a morning round trip to Norristown with several photo stops. At that time, the Straffords were used only during rush hour, so we seldom were able to see or ride them. The same was true with the 1931 Brill 80 cars, and the afternoon portion of our trip used one of them to cover the Media and Sharon Hill lines. Highlight of that trip was meeting line car 07 out on the road. Henry denied arranging the meet, but we often wondered. That trip was extremely successful, a sell out.
Another Chapter tradition, still observed, is the annual Christmas party. We started with a couple of years at the Unity Club with Jim Mayberry as Santa Claus. That grew tiring real fast, so we started one of the Chapter's most delightful traditions in 1969 with a rolling Christmas party aboard the Red Arrow trolley. Brill car 78 was chartered on December 14 for a run over the Media and Sharon Hill lines. Henry decorated the car with tinsel, wreaths and other holiday decorations, and there was punch, cookies and cake. What fun that was! We'd even stop and pick up passengers waiting for regular cars and give them a free ride and holiday cheer. By 1970, SEPTA had restored their center door car 73 to service, and we used it for our parties in 1970 and 1971. Unfortunately, attendance began falling off at the trolley parties, so we discontinued them. Few knew that Henry paid most of the expenses of these trips himself; there was never a fare charged to Chapter members. The venue for our Christmas parties was then changed to a dinner at the Surrey Restaurant on Philadelphia Pike for a few years. Wives seemed to enjoy these parties more. After the Surrey closed, the party was held at Carpenter Station one year, and then moved to the Coach House. The rest, as they say, is history.
April 15, 1972 saw the Chapter's one and only bus charter. A rest-room reclining seat bus (Sorry, Steve, I don't remember the model or number) took us from Greenbank to Somerville, NJ. There we boarded a Jersey Central train and rode to Cranford, transferred to the RDC Bayonne shuttle, rode to Bayonne and back to Elizabeth, transferred to a Penn Central MU, rode to Newark, took PATH to the World Trade Center, then NY subway to South Ferry, Staten Island ferry to St. George, then took a ride on the original SIRT MU cars to Tottenville, where the bus picked us up and took us home. Don't snicker, Steve--but you couldn't do the same trip today!
Another trolley trip was run over the Red Arrow Broad Gauge lines on November 19, 1972, using 1931 Brill car 86. Since everyone else was chartering the center door car for fantrips, we decided to roll out one of the 80's again, for another very successful trip. This was to be the Chapter's last trolley fantrip for nearly 20 years. An attempt was made to run another Red Arrow lines trip in 1981, a few tickets were even sold, but a SEPTA strike interfered. Also, Henry had moved to Kennebunkport, and a trolley trip without him would never be the same. The charter trips, however, meant money for the treasury, and without them, leaner times were ahead.
It took 10 years for the Chapter to sponsor its first fantrip on a railroad. The date was March 6, 1977, and we chartered Strasburg's Railbus "A" for a round trip to Leamen Place. Good thing we did-Strasburg has seldom used the car since. The shortline boom following the formation of Conrail was a boon for the Chapter, enabling us to get into running short line fantrips, a role which suited us perfectly. On April 19, 1980, we ran a trip from Federalsburg to Cambridge and Preston on the Maryland & Delaware RR. This was our first experience with a trip on a freight only railroad, and it was scary. Sure, it was an absolutely fantastic trip with beautiful weather, and Alco RS1, two wooden cars, and great photo stops, with very rare mileage, but the logistics were a lot different from running around in a trolley car, and the finances stretched well into 4 digits, the kind of dough the Chapter didn't have. To top it off, the trip didn't sell well. We thought it would be popular among the members; it wasn't. The trip ran in the black by a margin of only one ticket. A lesson almost learned the hard way. The Chapter's finances were rapidly deteriorating. We left 1981 without even enough money in the bank to pay for mailing the last newsletter.
In April 1982 we sponsored what I consider the most successful trip the Chapter has ever run, the "Talbot Bullet." The railroad was again the Maryland & Delaware, but the branch was the Clayton to East on branch. This was our first opportunity to originate a trip in Delaware, and unlike the Cambridge trip, we would be able to cover the entire line. That line has since closed down, and no trains have run over it for over 8 years. This trip was a go-for-broke situation for the Chapter. Expenses would be about $2000 and we were darn near flat broke. We ran the trips using cars chartered from Railroad Passenger Cars of Baltimore, and to reduce costs, the cars were used for trips from Easton to Clayton the previous weekend sponsored by the Baltimore Chapter and RRE. We announced the trips to our members, but the trips were marketed to outsiders, as we had about 150 seats to fill. We sent a notice to a newspaper I had never even known existed, the "Smyrna Times." They ran the announcement on page 1 and in about 4 days the trip was completely sold out, the second section the following day was almost filled up, and we referred lots of people to the Baltimore trips as well. It was certainly the classiest train we have ever run with a parlor car and lounge observation. When it was all over, there was about $1300 in our treasury.
November of that year saw two weekends of "Doodlebug Days", trips over the Octoraro Railroad using W&W's doodlebug 4662. These were our first excursions over our hometown shortline, and the combination of rare mileage and unusual equipment, resulted in two sold out weekends and a hefty increase in our treasury. Octoraro doodlebug trips were repeated in November 1984, but only on one weekend, as the appeal was diminishing. It was on this trip that 4662 did what doodlebugs were expected to do, and broke down. But we were rescued by a Brandywine Valley RR yard engine which towed us back to Greenville and performed for a couple of runbys. In April 1983 we used W&W coaches and Octoraro's Alco S2 no. 3 for a real passenger train running from Oxford, Pa to Coatesville, over 2 roads, The OCTR and the Brandywine Valley, our only excursion over the Lukens controlled switching line. That trip saw no. 3 break down, and we got back rather late. Octoraro then augmented their roster with a pair of ex-TP&W RS2's, and we used them on an excursion from Greenville to Modena in 1986. An identical excursion in November 1987 also used the W&W coaches, but in addition used W&W diesel motive power, their SW1 8408 and Alco S2 3 (not to be confused with Octoraro no. 3, by then retired). That was our last excursion on the Octoraro.
Three other shortline trips need to be mentioned April 20, 1985, was the Snow Hill Metroliner. We covered Maryland & Delaware's Snow Hill Branch from Frankford, Del to Snow Hill so fast nobody got to see it. Then on June 1, 1985, we chartered a trip on another doodlebug, Black River & Western's 4666, enabling us to get in some rare mileage and a bunch of photo stops on the line to Three Bridges. The final fantrip during my tenure in Wilmington was the September 1989 excursion on the West Jersey RR. Steve Barry handled a lot of details on that one, including some well planned and executed photo stops. Most of these trips are within the memory range of even our newer members, so we won't dwell on them. We should not overlook however, doodlebug charters for our summer meetings over the W&W in the late 1980's. They were always fun and often exciting.
Besides the excursions, the Chapter has also had many smaller outings where a small group would assemble to ride regularly scheduled trains. The rail portion of the charter bus trip was one such activity, and there are probably too many to try to list them all. One of the more ambitious trips was on April 29, 1973 when we did a circle trip using Amtrak from Wilmington to Baltimore, over the Port Road to Harrisburg on Amtrak's Broadway, Harrisburg to Philadelphia, and Philly to Wilmington. That one had some close connections we barely made. Other trips we have made included a ride on New Hope & Ivyland's mixed train, Reading RDC's to Pottsville, PRSL RDC's to Wildwood, Cape May and Ocean City, EL MU cars to Dover and Gladstone, the West Chester branch, the Norristown circle trip, NJ Transit to Atlantic City, and no doubt some others I have missed.
There were also tours to Mechtron, PATCO High Speed Line, Amtrak shops at Wilmington and Bear, Baltimore Streetcar Museum (including an opportunity for members to operate the cars), Amtrak's dispatching center at 30th St., Phoenix Steel, Delmarva Power, Reading shops, B&O Museum, and whatever else I may have overlooked. A quarter century of Chapter activities I had the privilege of participating in, most of which could not now be repeated.
But more than anything, the Chapter is its people. And it seems that's where our greatest strength has been, for our Chapter has set an example of people working together to make the Chapter better. We have been remarkably free of some of the personality conflicts and power struggles that have dissipated the efforts of other Chapters and organizations. This did not just happen, it was the result of having dedicated and committed Chapter officers. After Henry Dickinson served a year or two as president, he stepped down and ran for Chapter secretary. Dick Hall succeeded Henry as president, served for a few years, and then Walt Robbins was elected to the top post. Walt has served close to 20 years in that position, a remarkable tenure, and has guided the Chapter gently through both bad years and good, displaying admirable qualities of wisdom and patience. Other people include Pete Cramer, Bill Stees, Russ Fox, Bob Reilly, Bob Cooper, Al Seibel, and undoubtedly others for whose omissions I must apologize. I would like to personally commend Russ Fox, Ed Thorton, Phil Snyder and Ron Cleaves for the help they gave me on Chapter fantrips. They ran the commissary services, doing what needed to be done without hassle, which left me free to concentrate on such matters as trip promotion and ticketing. Food and gift sales were always a significant contribution to trip profits, and on one trip they spelled the difference between profit and loss. Had these guys not taken charge and shaped up the commissary department there wouldn't have been any food or drink sales at all. Now, of course, Steve Barry is directing Chapter trips, discovering all the things you have to think of. But it sounds like the tradition of Chapter trips is continuing.
So now we enter our second quarter century. When the Chapter began, Alco was still building locomotives and GG-l's belonging to the Pennsylvania Railroad stopped at the Wilmington station pulling long trains that included Pullman cars. The dizzying changes of the last two and one half decades make us not want to even think about what might be happening when the Chapter reaches its fiftieth year. But if we can keep things in their proper perspective, continue working together, and making our major goal the enjoyment, fun and fellowship of a great hobby, the Wilmington Chapter will still be the best in the NRHS!
---
SCHEDULE NOTES
Notices, announcements, schedules, etc. are provided here as a service to the members. The Chapter has no affiliation with any commercial operation, museum, or tourist line.
Second Sunday of each month from April to November Chesapeake & Allegheny Steam Preservation Society Located in West Baltimore, Gwynns Falls and Leakin Parks together comprise more than 1,000 acres - one of the larger urban wilderness preserves in the United States. Public run days are the from 11:00am to 3:30pm. Rides are free and there are picnic tables nearby for those who wish to make a day of it. http://calslivesteam.org/Default.htm
May 24 thru Sunday, Nov. 4, 2007 A Journey from Road to Rails at Ellicott City Station Wednesdays through Sundays, 11 a.m. - 4 p.m. The Roads to Rails exhibit opens on Thursday, May 24 at Ellicott City Station. All visitors on Thursday, May 24 will receive free admission. Explore the impact of industrialization and transportation on Ellicott Mills as you learn about two significant avenues of travel: the Baltimore & Frederick Turnpike (Main Street) and the B&O Railroad. The exhibit runs through November. [http://www.ecborail.org/exhibitions-public-programs.shtml]
Saturday and Sunday October 6th and 7th 2007 Fall Open House Reading Society of Model Engineers Noon until 5:00pm Ride on the Laurel Run amidst the beautiful color of the autumn trees. Admission by donation. Free parking; refreshments & souvenirs are available. Berks County, PA, Reading, PA 19612 Clubhouse phone (leave message) 610-929-5444 http://www.rsme.org/
Wednesday September 26, 2007 Rails in Delaware - A Signature Series Presentation by Mike Dixon 7:00 p.m at the Historical Society of Delaware. This program is free and open to the public and will be held in the Copeland at the Delaware History Museum at 504 N. Market Street. RSVP appreciated to 655-7161 or hsd@hsd.org. For more information, please contact Gregory Coin at 302-295-2393, gcoin@hsd.org or visit www.hsd.org
October 13 & 14. 2007 MODEL RAILROADING DAYS Railroad Museum of Pennsylvania , Regular Museum hours. New program in conjunction with nearby National Toy Train Museum.
October 13 & 14. 2007 2007 AUTUMN LEAF STEAM TRAIN EXCURSIONS Reading & Northern Railroad PORT CLINTON to JIM THORPE TRIPS details are available at: www.RBMNRR.com
October 20. 2007 2007 AUTUMN LEAF DIESEL TRAIN EXCURSION Reading & Northern Railroad PORT CLINTON to JIM THORPE TRIPS details are available at: www.RBMNRR.com
Sat. & Sun, October 27 & 28 Friends of Auburn Heights (house open, too) Yorklyn, DE http://www.auburnheights.org/calendar/calendar.asp
November 2 - 4, 2007 Lackawanna Railfest 2007 National Park Service at Steamtown National Historic Site, will host Lackawanna Railfest 2007 http://www.nps.gov/stea
Saturday, November 3, 2007 - TAKING THE SWING TRAIN '40S DANCE Railroad Museum of Pennsylvania , 7 PM to 10 PM Jump, jive and swing to the popular Sound of Roses live band among the trains in the Railroad Museum's awe inspiring Rolling Stock Hall. Come in uniform or '40s clothing! Special savings combination ticket, per person, for the dance and both days of Trains & Troops: $30.00; Dance ticket only, per person: $20.00; Veterans and active duty service personnel, per person: $15.00. Dance tickets should be purchased in advance by phone at 717/687-8628, ext 3008, in person at the Whistle Stop Shop museum store or on line, using a printable ticket request form. Dance tickets may be ordered online. Details and tickets.
Saturday, November 3 & Sunday, November 4, 2007 TRAINS & TROOPS Railroad Museum of Pennsylvania , Regular Museum hours. Greet our guys and gals in uniform, experience many splendid railroad and military archival displays, enjoy the patriotic spirit. Ride the troop trains on the Strasburg Rail Road with living history re-enactors on both days of the Railroad Museum's Trains & Troops program. Troop train tickets are sold separately by the Strasburg Rail Road on line at www.strasburgrailroad.com.
November 2 - 4, 2007 Lackawanna Railfest 2007 National Park Service at Steamtown National Historic Site, will host Lackawanna Railfest 2007 http://www.nps.gov/stea
November 23, 2007 through January 6, 2008 A BRANDYWINE CHRISTMAS At Brandywine River Museum. For info http://www.brandywinemuseum.org/calendar.html
November 23 & 24 Friends of Auburn Heights Yorklyn, DE http://www.auburnheights.org/calendar/calendar.asp
Nov. 30, Dec. 1, 2, 2007 Day Out With Thomas Beware of heavy traffic and crowds in the Stasburg area [http://www.strasburgrailroad.com/day-out-with-thomas.php ]
Saturday, December 8 & Saturday, December 15, 2007 HOME FOR THE HOLIDAYS Railroad Museum of Pennsylvania , Regular Museum hours. Take a nostalgic glimpse at holiday rail travel. Meet costumed engineers, conductors, ticket agents and passengers representing the past century and enjoy seasonal music, festive decorations, Jack Frost Station and a Polar Express party for young children among our world-class collection of trains. Included in the regular Museum admission. Details on Home for the Holidays
---
CHAPTER EVENTS
Thursday Sept. 20, 2007 7 PM Chapter Meeting program by David Warner entitled "September in the 80s"
Thursday Oct. 18, 2007 7 PM Chapter Meeting program by Phil Snyder entitled "see line above"
Sunday Nov. 11, 2007 ? Chapter Trolley Trip
Thursday Nov. 15, 2007 7 PM Chapter Meeting program by Frank Ferguson "The Plan Came Together" so it is entitled "White Pass & Yukon + Alaska Railroad "
Sunday Dec. 9, 2007 5 PM Holiday Dinner in lieu of normal monthly meeting Program by Steve Barry
Thursday Jan. 17, 2008 7 PM Chapter Meeting program by ?
Saturday Feb. ?, 2008 ? Chapter Trolley Trip Super Saturday Streetcar Special XV
Thursday Feb. 21, 2008 7 PM Chapter Meeting program by ?
The Wilmington Chapter of the National Railway Historical Society (NRHS) meets at 7:00 PM on the third Thursday of each month [except August & December] in the Darley Room at the Claymont Community Center on Green Street in Claymont, Delaware. Visitors are always welcome. Admission to regular meetings is free. Check out our Website (thanks to Russ Fox) at:
---
The Transfer Table is published six to ten times per year as the newsletter of the Wilmington Chapter of the National Railway Historical Society. Items in this publication do not represent the official position of either Officers or Members of the Wilmington Chapter or the Editor of this publication.
Permission to reprint articles and news items appearing herein is granted to NRHS Chapters and other newsletters provided appropriate credit is given. Contributions are always welcome and should be sent to the editor at SD40GMA@aol.com or send to: P.O. Box 1136, Hockessin, DE 19707-5136. Deadline for entries is the 25th of the month.
Chapter OfficersPresident: Phil SnyderVice President & Historian: Ron CleavesTreasurer: Ralph Stevens, Jr.Secretary: Dan FrederickNational Director: Tom Posatko Editor: Greg AjamianEducation Fund: Ed ThorntonPublic Relations: Frank Ferguson, Jr.Trip Director: Ralph Stevens, Jr.Event Photographer: Ron CleavesWeb Master: Russ Fox